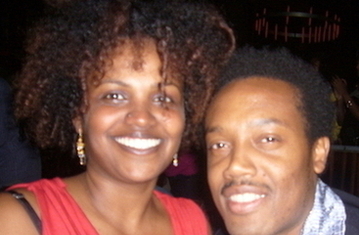 by Carolyn Slutsky
By the time she was 7, Beejhy Barhany had fled her native Ethiopia, walking with her family and 300 villagers to Sudan, where they started a new life. After a few years they left again, this time taking a Jeep through the jungles of Kenya, on to Uganda, France and finally to Israel, which even at that young age she remembers was "like fulfilling a dream after exile."
She quickly made the transition into Israeli life, and at 22 visited New York, where she also felt at home. But when she moved here, she searched for agencies to help Ethiopian Jews making the transition and found nothing. So in 2003 she founded Beta Israel of North America (BINA), a cultural organization for Ethiopian Jews.

"The idea behind BINA is to empower Beta (Ethiopian) Israel Jews and teach about the rich culture of Ethiopian Jews," says Barhany. She would like to educate the Jewish world at large that there is more than one shape and color for Jews, and see members of the diaspora interacting as equals.
"It's always 'how can we help them?'" she says of the attitude of many in the Jewish community. "It should be 'how can we help each other."
BINA has a speakers bureau and educational workshops, the Sheba Film Festival (which opens Sunday) and social services for the approximately 500 Beta Israel living in the New York area. The group hopes to develop a curriculum around the Ethiopian Jewish experience, and continue its outreach to the Jewish and black communities.
Barhany says she is inspired by the recent election of President Barack Obama. "As a black Jewish woman it's a good change. Eventually the U.S. can be a role model to other countries, opening people's minds," she says, adding that Israel still has further to go in accepting Ethiopian Jews as fully integrated members of society. "If we empower each other we can learn and be stronger," she says of the world and her own little community within it. "That's the best help you can give."
Wanderlust: Barhany has a passion for exploring different ethnic groups and diversity, and has journeyed to the Inca trail and Machu Pichu.
The Jewish Week